Bolinao: The Hidden Jewel of the North
Every month a different guest blogger is sharing their travel experience on the Vayama.com Blog. This month 'The Ultimate Bolinao Travel Guide' written by travel blogger La Luna Vida.
---
The Ultimate Bolinao Travel Guide
Bolinao, Philippines, fondly known as The Hidden Jewel of the North is a nature lover's idyllic city tucked at the West Coast in the Northern region of the Philippine Archipelago. It is rich with caves, beaches, waterfalls, lush islands, thriving marina, historical landmarks and a populace deemed with generosity and congeniality.
This remote coastal municipality of Pangasinan Province has remarkably progessed over the last 600 years, from a mooring ground of Spanish and pirate vessels in the 14th-16th centuries whereby the national archaeological treasure of Gold-Teeth Bolinao Skulls is traced; a modest Spanish colony from its foundation in 1575 until the 19th century, during which one of the oldest churches in the country was conceived; to an American settlement in the early 20th century, bearing the 115-year old Cape Bolinao Lighthouse; and as a dense nature's paradise that draws in tourists from all over the world.
These age-old treasures, manmade and natural alike offer a clear reflection of the Bolinaoans nurturing personality, such that a simple smile and friendly greeting from an outsider would yield trust and wondrous bequethes from them. Indeed it is admirable how every nook and cranny of this quaint land is blessed with treasures as amazing as the experience it promises to give.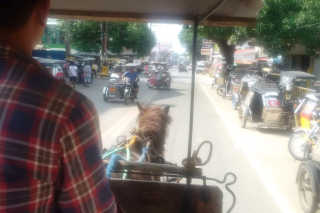 Things to do
As a city risen from a mound of rainforests and a flourishing coastlne, Bolinao is guaranteed to ignite a sense of adventure and the love for nature from within.
Therefore, it is likely that one's itinerary would consist of spending time of relaxation and aquatic activities at Patar White Beach, exploring the marvelous caves of Enchanted and Wonderful Caves and swimming in its cool spring pool, jumping off the cliffs at the waterfalls, snorkeling in the marine conservatory at the neighboring Silaqui Island for a glimpse of the extensive population of Giant Clams and sea urchins, joy-riding to the adjacent cities for more memorable experiences like kayaking and bird watching at the Bangrin Mangrove Farm at Tambac Bay and touring the famous Hundred Islands in Alaminos City.
Aside from these, a Rest and Relaxation at the quintessential eco-resort on the beach, Birdland Beach Club grants awesome and memorable experiences for guests staying at its breezy Bolifugao cottages on stilts, walk-in diners at its homegrown Blue Mikey's Restaurant and adventure seekers on its inland tours on horse carriage or Kalesa, Bamboo Trike or Jump-off Hop-on Bamboo Jeepney.
Places to visit
1. Patar Beach
A coastal amalgam of white sand, shells and corals, doling out a heavenly white beach coupled with turquoise sea, a spectacular sunset and the unfolding of unique and extraordinary experiences for all visitors alike.
As a west-facing beach, Patar sets as a prime beach destination on the summer season with the smoothly laid-out pristine coast and tranquil sea captivating family or group travelers for a chill-out beach getaway; whereas on monsoon season, the strong western habagat wind blows into the shore crafting waves that's ideal for wind and wave-driven sports like Body-boarding, Windsurfing, Kite Surfing and Surfing.
Regardless of the season, this white beach is open for walk-in visitors where public amenities like public toilet and shower plus picnic cabanas are available to use for a fee, as well as for visitors looking to spend a weekend holiday right at Patar and stay in the resorts within the beach like Puerto Del Sol Beach Resort.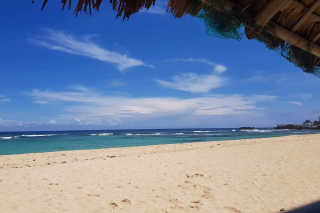 2. Waterfalls
At the edge of the city lies dense vegetation of fresh rain water flowing through nourishing mineral-rich cliffs and lush tropical plants igniting waterfalls in separate locations with depths of varying heights and of distinct ambience. Simply coined as Bolinao Falls 1, 2 and 3, these watery havens are categorized from the highest water depth to the shallowest.
Bolinao Falls 1 is the deepest with vast turquoise water going down up to 10 meters, making it perfect for diving, cliff-jumping and swimming. It offers an easy swim for all ages, with a submerged platform to relax on and steps for climbing into the pool.
Bolinao Falls 2, on the other hand is akin to a large natural pool with cool spring water falling off diverse pockets on this semi-spiral cliff. Its waterfalls range from the biggest, which boast of the highest and widest water falling into the pool, to the middle ones, then down to the lowest with a shower-like trickle. Thus, it's great to maximize the beauty of this waterfalls though cliff-jumping, swimming, hiking and holding a picniic.
Bolinao Falls 3, the last one in the vicinity is the shallowest waterfall that is fantastic for children and people who prefer to revel in the cool stillness of the spring pool.
While the first three waterfalls require an entrance fee per person, Tara Falls, the one nearest to the town proper of Bolinao charges nothing for entry. It has a profound depth that is good for cliff-jumping and swimming, plus several waterfalls to bask in.
3. Caves
Where waterfalls are found, caves also exist. And having these several waterfalls around in one city, means there is more than one cave that meets further exploration. Among the many caves in Bolinao, two presents as stupendous gifts of nature: Wonderful Cave and Enchanted Cave.
Wonderful Cave, with its spiky stalactites and stalagmates formed on its crevices, as well as steps and handrails, makes for easy trekking and spelunking for everyone. Beyond this wonderful cave, lies a crystalline spring pool that is aimed for a rudeawakening submersion into the unique sensation within the cave.
Enchanted Cave, a coral-rich formation with fresh emerald-like natural pool in its center, is Bolinao's most famous site. Locals say that the cave's lavish coral formation was due to its underwater state millions of years ago, as the discovery of fossilized giant clams links it to.
Thus, aside from spelunking and swimming in its pool's depth of 3 to 6 feet, it is no wonder that other enchanting species could be seen, like monkeys hanging on the trees.
4. St. James the Great Parish Church
Locally revered as a miraculous site, this 17th century Augustinian church stands grand and sturdy amid historical calamities, such as an earthquake in 1788, a fire in 1819, and a legendary typhoon in 2009.
The miraculous longevity of St. James, despite the subtle damages that it has incurred over the years, may have been due to its black coral stone walls or through its communitiy's unified faith and harmony. Either way, it is best to light a candle and offer a heartfelt prayer upon one's visit at St. James.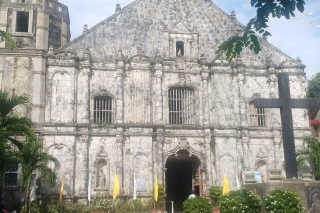 5. Cape Bolinao Lighthouse
Standing at 351 feet (107 meters) high on Punta Piedra, this pre-World War lighthouse stands as a grand panoramic viewpoint during the day and a radiant illumination at night that guides vessels mooring into the coast.
Built by the Americans in 1903, the lighthouse has 140 steps spiralling up to the top. However unrestored, visitors have the vantage of the raised observation deck for a splendid view of the nearby Patar Beach, the sunset and the rest of the West Philippine Sea.
6. Balingasay River Cruise
Truly highly pleasurable and informative, this cruise provides environmental awareness on the protected Balingasay River, which is locally known as the cleanest river in Luzon.
An environmental community project of the local government, this cruise secures the pristine and healthy environment of its ecosystem, touching on wild animal species including migratory birds that dwell on its 15 hectares of century-old and young mangroves, and 30 hectares of endemic tropical plants like wild ferns, nipa palms and hanging trees.
There is also a myriad of sweet water fishes and other food sources that are on hand and carefully harvested for local consumption.
7. Neighbouring Islands
If Bolinao mainland is teeming with impressive nature, Santiago Island is its smaller version that encapsulates most of its natural treasures. It is home to virgin white sand beaches, spellbinding coral reefs, mangroves and migratory birds. Promising activities that are in store here are snorkeling, diving, bird watching, beach bathing, and fishing with a boat captain who would provide assistance until the fish is set to grill.
Silaqui Island is another enriched island that is conserved for the abundance of giant clams and diverse species around. About 30,684 adult and 11,209 juvenile clams to date are conserved in the island's Bolinao Marine Laboratory, curated by the University of the Philippines. The island is also well-attended for the heaping number of sea urchins that are regularly harvested by the townfolks for their own consumption and livelihood.
These may be just some out of the many sites in Bolinao that await every traveler. The rest is yet to be explored or even discovered.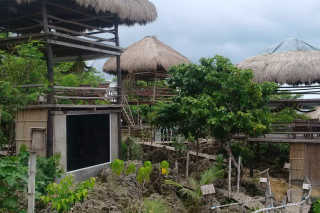 Where to Stay
Birdland Beach Club a definitive eco resort perched on the coral cliffs of Bolinao's long beach at its north. Abound an expansive grassy seabed with a protective reef beyond, Birdland is ensured with optimal tropical weather with dry and breezy summer season, and usually damp and calm monsoon season. Its geographic advantage makes for the stability of its high, stilted and open Bolifugao cottages, which affords a spectacular view of the sunset on one side and the sunrise on the other.
Puerto Del Sol Beach Resort is a world-class destination at Patar Beach. It houses an array of elegant rooms and villas for the diverse needs of its sophisticated visitors.
Where to Eat
Blue Mikey's Restaurant is a homegrown restaurant that offers Local and International dishes for its local international diners. Its specialties are farm to table ingredients like vegetables, fruits and herbs from its thriving organic garden, and healthy options like unpolished rice and dehydrated fruits and veggies that sustains most of its raw nutrients. Serving portions here are for sharing and for a reasonable price at that.
Paluto at Patar Beach. This is a type of eatery that is common in rural coastal areas. It is basically a concept that lets the visitor utilize the cooking service or "paluto" and amenities of the beach front eatery for a fee.
Shopping
For souvenirs, there are market stalls at the entrance of Patar White Beach. For healthy dehydrated food that is packaged for easy handling, go to Birdland Beach Club. Also sold here are hanging lamps made from shells and other things sourced within the comunity. For fresh produces and local delicacy like shrimp paste and honey, visit the Public Market in the town. It also hosts stalls that sell hand-picked second-hand clothes and accessories.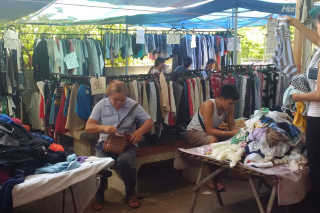 ---
Flights to Bolinao
Book your flight to Manila via Vayama.com and journey on land via the following options:
Hire a privately driven car or rent a car at the airport in Pasay City to Bolinao, Pangasinan, with an estimated travel time of 6 to 7 hours.
Take a taxi at the airport and ride for about 20 to 30 minutes to Victory Bus Liner in Pasay, and then take the scheduled trip to Bolinao, which has an estimated travel time of 8 hours.
Read more on Lalunavida.com