Top Things To Do in Khao Lak, Thailand
Every month a guest blogger is sharing their travel experience on Vayama.com. This month 'Top Things To Do in Khao Lak' written by travel blogger Joannda from A Zest For Travel.
---
The Ultimate Khao Lak Travel Guide
Away from the hustle and bustle of Phuket, just an hour and a half's drive north, you'll come to a little slice of paradise.
Khao Lak in Phang Nga province is a haven of tranquility. With mile after mile of unspoilt, near-deserted white sandy beaches, national parks covered by tropical rainforest, waterfalls, and abundant wildlife, Khao Lak is the perfect base for a relaxing stay in Thailand.
You could absolutely be forgiven for simply putting your feet up and whiling away your days swimming and sunbathing. But, if you want to explore the area there is plenty to see, all within easy reach!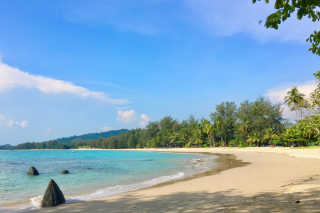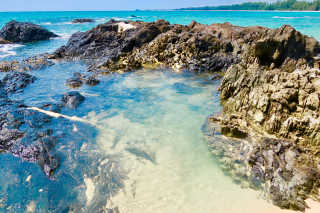 Beaches in Khao Lak
Granted, you will (and should!) spend some time on the beach during your visit to Khao Lak. It's a definite must!
Pak Weeb Beach is my top pick as Khao Lak's best beach. While it has certainly gained popularity over the last few years, with luxury resorts popping up here and there, Khao Lak remains a lesser known and therefore less touristy area in Thailand.
The soft, white, powdery stretch of beach that is Khao Lak's coast line is fringed by coconut and casuarina trees on one side, and the clear turquoise Andaman Sea on the other. The water is wonderfully warm, so don't expect it to be too refreshing!
A small word of caution: Jellyfish like the Andaman Sea too… This isn't anything to worry too much about, but if you get stung, rinse with sea water (fresh water will aggravate it!) and some vinegar and the sting will soon settle down.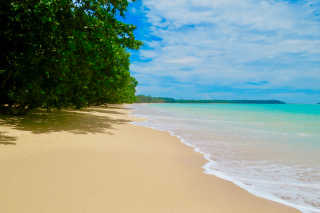 Sea Turtle Conservation Center
A nursery for turtles! Need I say more?
The sea turtle research and breeding facility at the Phang-Nga Naval Base is just south from Khao Lak. The center rears and releases hundreds of young turtles each year to help boost the wild population of endangered sea turtles. It's both educational and fun for visitors of all ages.
There is a small fee to enter, but it is more than worth it to see these amazing creatures up close and personal. Plus, it helps the center continue doing the amazing work that they do!
Note: This sea turtle conservation center is located on a military base, so make sure you have proper identification with you, such as your passport.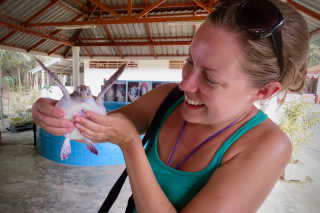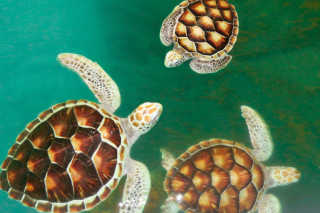 Tsunami Memorial
Khao Lak was largely devastated by the tsunami that hit Thailand on 26 December 2004, although it's hard to imagine now. Khao Lak has since been restored to its former paradise, and signs indicating Tsunami evacuation routes are really the only clear reminder of the tragedy that occurred here.
I highly recommend a visit to the Ban Nam Khem Tsunami Memorial Park about 20 minutes north from Khao Lak. It's a small but peaceful place to remember the people who lost their lives here that day, with some good information about what happened as well as about tsunamis in general.
The site is right on the beach with some beautiful views. A large golden statue of Buddha now sits with his back to the sea, protecting the people against threats from the ocean.
Note: There is also an International Tsunami Museum just outside Khao Lak itself.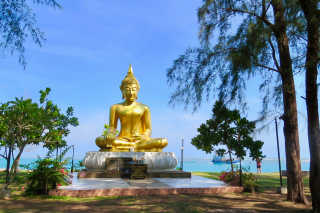 Elephant Encounter
The chance to interact closely with elephants is something that many visitors to Thailand are eager to experience.
However, this is a somewhat controversial topic, so I will start off with a word of caution and encourage you to research companies carefully to ensure that they are reputable and ethical, and treat their animals well.
As a fun alternative to riding elephants, why not book an ethical encounter where you can bathe and feed the elephants such as at the small family run Phang Nga Elephant Park.
Ethical camps are likely to be somewhat more expensive, but the money is used to further improve the camps, and helping more elephants.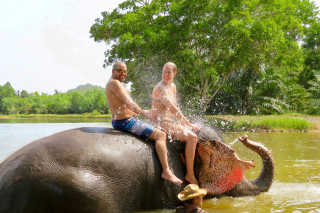 Similan Islands Day Trip
For anyone who likes swimming, snorkeling or scuba diving, the uninhabited Similan Islands are a must-visit spot during your time in Khao Lak.
The crystal clear water is makes it a top spot for snorkeling or scuba diving. The huge boulders on several of the islands are worth a look too!
Some islands (all conveniently named by numbers!) are more idyllic than others - Island 8 (Similan) is the go-to for tour companies for lunch and isn't quite as picture perfect as the smaller islands are. Check with your tour on which islands you'll be visiting and how long you will stay at each.
Note: Due to weather conditions during rainy season, trips do not take place between May-October. Outside of these months, the Thai government is implementing a daily visitor limit in a bid to tackle environmental problems. Check out the specifics before booking your trip!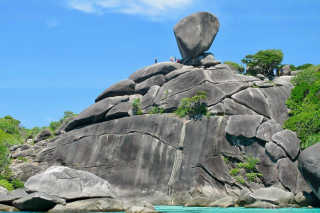 Phang Nga Bay Day Trip
Phang Nga Bay is probably one of the best known places in Thailand and no visit to Khao Lak would be complete without it. Tall limestone cliffs and rock formations jutting out of the sea make for some amazing photo opportunities. But, do keep in mind that due to its popularity, certain areas may be quite crowded, especially during high season.
There are multiple day trips on offer from Khao Lak to Phang Nga Bay. There is a lot to see and you likely won't manage it all in one day, although some trips may offer more than one stop.
While the Phi Phi Islands have been an extremely popular tourist destination, bear in mind that Maya Bay (famous from the movie "The Beach") is currently closed to tourist until further notice due to environmental damage caused by mass tourism.
A good alternative option is a combination trip to James Bond Island (Khao Phing Kan - made famous by "The Man with the Golden Gun" movie) and Wat Tham Suwannakhuha temple to see the huge reclining Buddha (and feed the monkeys!), with a lunch stop at Koh Panyee. This seemingly floating fishing village is built almost entirely on stilts and is a sight to behold!
While we did a speed-boat tour to fit as much as possible in to one day, I wasn't a big fan and will definitely opt for the more traditional longtail boats the next time.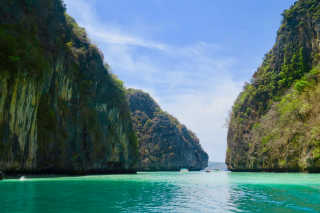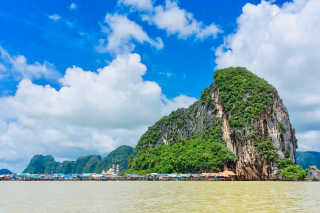 Best Time To Visit Khao Lak
High season runs from November through April, with low season from May through October. I recommend heading over in March/April when it is ever so slightly less humid, and a bit quieter compared to the middle of high season. Either way, you'll see plenty of sunshine all year round between the incredible tropical downpours!
---
Getting To Khao Lak
Book your flight to Phuket International Airport via Vayama.com. It is an easy 70-minute flight from Bangkok. From there, Khao Lak is an hour and a half's transfer away.
Be sure to check out azestfortravel.com for more great travel tips, and follow me on Twitter @aZestForTravel and Instagram @azestfortravel.