My Journey in Taiwan
I had never been to Asia, and Taiwan was admittedly not the first place I would have thought to visit.
That was until I won the the "Ticket for Two from San Francisco to Taipei Sweepstakes," an incredible, no-strings-attached opportunity allowing my significant other and me to enjoy a late-summer vacation and answer the following questions in the process:
1. The Food
Upon entering Taipei's Shilin night market, I understood how "stinky tofu" got its name: There's no way it could have been named anything else.
The "stink" tickles all parts of the nasal spectrum, simultaneously sweet, putrid, salty, garbagy, and maybe even a little bit fishy (although the fish scent could have come from elsewhere in the market…). The nose tries to reach an olfactory conclusion from the hot, confusing blend and can't quit sniffing. Fortunately, stinky tofu's taste bore little resemblance to its smell. It was savory and delicious.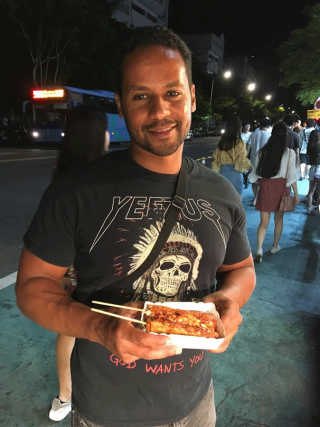 At the other end of the spectrum was the oyster omelet. This delicacy seemed like a no-brainer because I love eggs and seafood, especially oysters, which I don't get to eat very often. Unfortunately, there was a third major ingredient—slime—on account of which I'm sorry to say this was the one dish in all of Taiwan that I just couldn't stomach.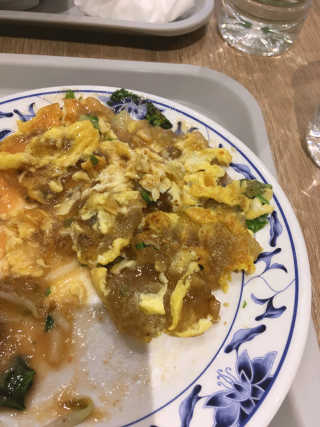 Fortunately, there is no shortage of palate cleansers in Taiwan: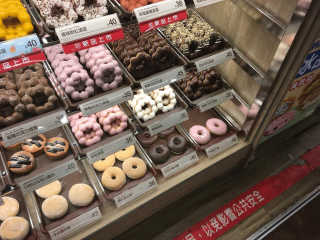 Taiwan even put its own nice spin on Starbucks: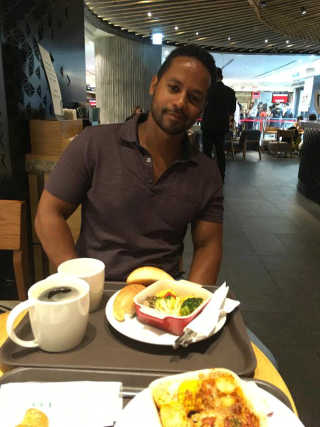 Bonus: Taiwan Beer was excellent!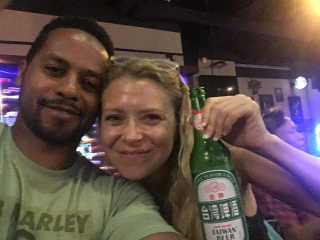 2. The National Palace Museum and the Jadeite Cabbage
Before the trip I was told that Taipei's National Palace Museum—specifically its jade cabbage—was "the thing to see." So I read up on this elusive bok choy and learned it was carved from a single piece of jade, likely in the 19th century, with the locusts atop leaves a symbol of fertility.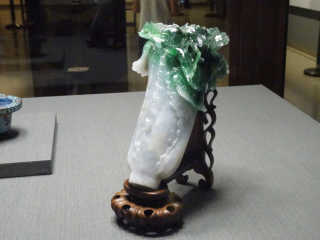 I was worried the actual cabbage, small enough to hold in one's hand, would be a letdown after all the hype. But alas, it was spectacular!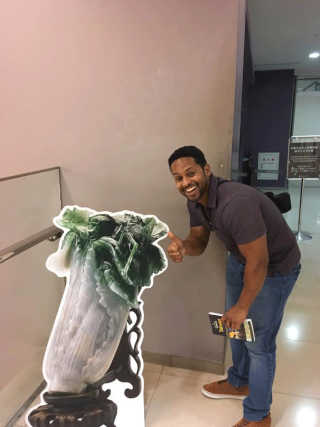 3. Taipei day and night life
We spent an afternoon in Taipei hiking the Elephant Trail, a shaded and stair-heavy path within walking distance of our hotel and the Taipei 101 building.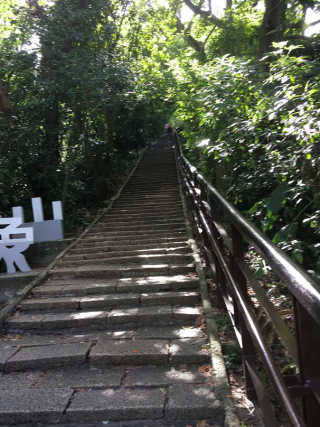 After about 600 stairs, we earned this view: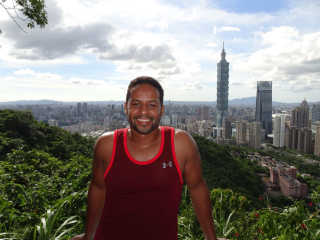 After a light rainstorm, some 7-Eleven snacks, and some rest, we glammed up and hit the clubs, with several floors' worth of options near the 101.
So how did the Taiwanese club scene compare to L.A.'s? Pretty similar :)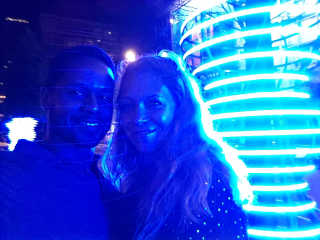 4. Kaohsiung and South Coast Beaches
After three days in Taipei, we boarded the Taiwan High Speed Rail (HSR) to the southern city of Kaohsiung. It took only 90 minutes to travel more than 200 smooth miles, and we instantly loved Kaohsiung: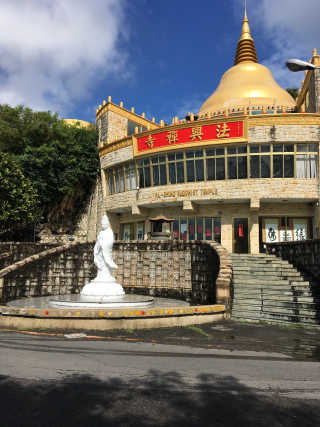 We stayed at the Kindness Hotel, which earned its name. The front desk staff stood to greet us every time we left or entered the hotel, and the stay included free bike rental and daily coupons for free continental breakfast and free "midnight snack"—essentially a full dinner comprised of all of Taiwan's best dishes (pork and bamboo stew, rice, soups, etc.).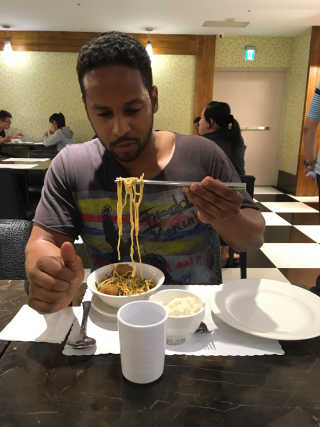 Determined to experience at least one southern beach, we walked to the ferry to Cijin. The ride was less than $1 USD and took all of five minutes.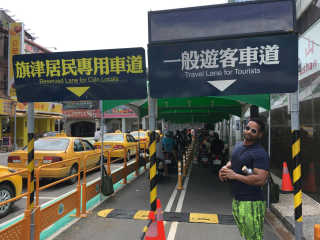 We disembarked to find a small yet touristy beach town that fronted a lovely black-sand beach with hardly any other humans in sight (it was so private that I neglected to take many photos!). After the beach, we had what we agreed was our favorite meal of the trip: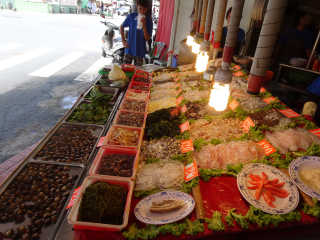 With the oyster omelet incident long forgotten, I had no problem eating all the snails: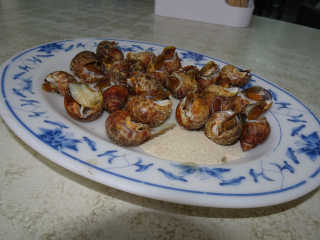 5. Jiufen and the Taroko Gorge
There were too many good options for our final day in Taiwan. We narrowed it down to Sun Moon Lake (in the central region) or Taroko Gorge (northeast) and opted for the latter for timing reasons. We hopped a regular train up the east side (the HSR only runs along Taiwan's west coast) and disembarked at Jiufen: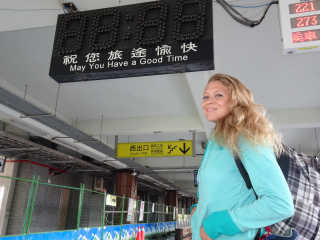 Taxi drivers offered to take us on their private tours of Taroko Gorge (does the picture above not suggest "tourist"?), which we were told would be more efficient than a bus tour.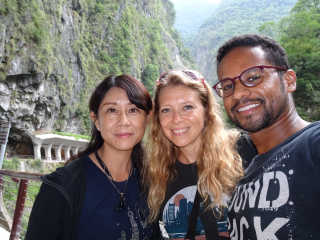 So we hopped aboard with our tour guide, Tiffany, who showed us all of the highlights, including the rock that is said to resemble the profile of an Indian chief: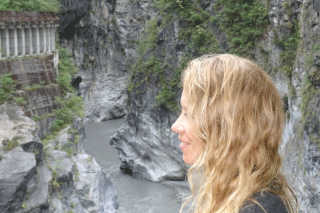 Safety first! (chance of falling rocks):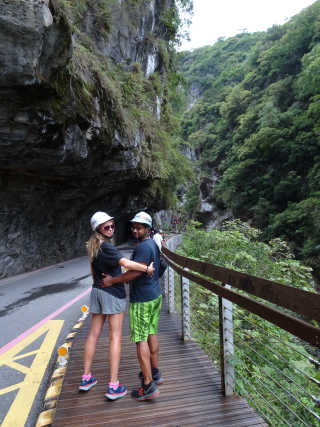 We spent the next morning in Jiufen enjoying the Pacific Coast: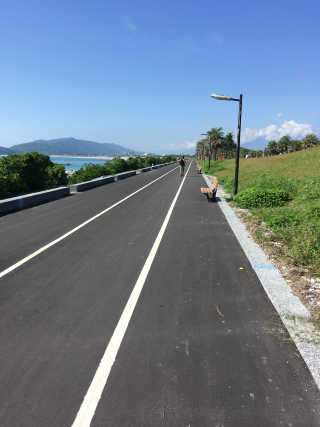 En route to the airport, we bid farewell to Taipei outside the 101 Tower: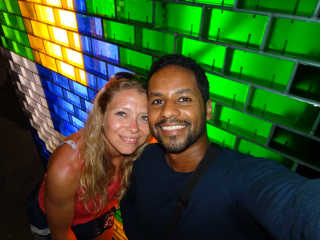 Truth be told, when I entered Vayama's sweepstakes I was on the website exploring trips to Vietnam. In other words, Taiwan was not top of mind. But it should have been! It is truly a hidden travel gem, and I've been spreading its gospel ever since my return.
A MILLION THANKS to Vayama, China Airlines, and the Taiwan Tourism Board! We cannot thank you enough!